Google confirmed that Chrome support for Windows 7 and 8.1 will be discontinued in February 2023. Despite abandoning Windows 7 and 8.1, Google guarantees Windows 10 customers they may continue to use Chrome to browse the web. Google noted, "With the release of Chrome 110 (7 February 2023), we will officially terminate support for Windows 7 and Windows 8.1."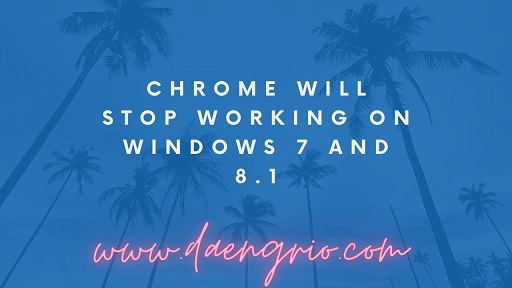 Google's plan to cease Chrome support is consistent with Microsoft's Windows cycle policy.
The Extended Security Update (ESU) service for Windows 7 and Windows 8.1 will reportedly lose support on January 10, 2023.
According to Statcounter GlobalStats, Windows 7 is still utilized on more than 10 percent of Windows devices worldwide, although Windows 8.1 accounts for only 2.8%.
Google Chrome has a market share of over 65 percent of all browsers in the world as of the present.
Next in line is Safari with approximately 18 percent, and Microsoft Edge with 4.32 percent.
Even if older versions of Google Chrome continued to function on Windows 7 and 8.1 after support was stopped, Google recommends that users update their operating system.
Thus, Windows users will continue to receive security upgrades for Google Chrome that are released in stages.
"Older versions of Chrome will continue to function, but users on this operating system will no longer receive updates," Google stated.
On smartphones, tablets, and computers, browsers are becoming one of the most crucial applications. Web browsers or browsers enable consumers to access vital information on the internet.
There are numerous browser brands accessible today, but they fight to overcome their individual flaws. It appears that a lot of prominent browsers are also affected by the security issue. What web browser do you use? Ensure that you always keep your personal information secure.