There are numerous ways to connect a phone to a television. For example, you can connect your phone to your television using a Micro USB cable. Then, you may play material from your mobile device using the TV's remote. This function is only compatible with Android smartphones. However, some Android phones do not support this feature. Therefore, you may need to find an alternative means to connect your phone to your television.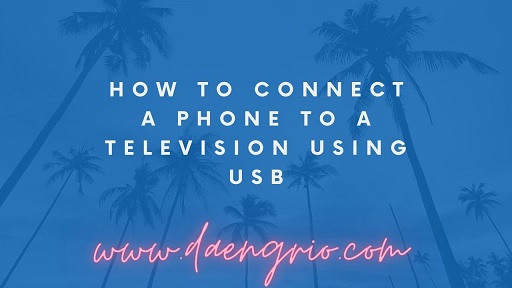 Using a USB to HDMI converter is the most frequent way to connect a phone to a television. These adapters provide a USB port into which you can plug your USB cable. After that, you can use an HDMI cable to connect your phone to your television. Before you can utilize this method, you must check that your phone supports HDMI Alt Mode.
Alternatively, a docking station may be utilized. This type of device will also require an electrical cord. This will allow the dock to charge the phone and display it on the television. USB to TV connections are simple to set up, depending on the type of connection. Consider a Samsung DeX device if you wish to use your smartphone as a personal computer. These devices enable your smartphone to function as a PC and stream all of your favorite programs and games to your television.
One of the greatest benefits of connecting your phone to a TV via USB is that it removes buffering, lag, and other issues associated with wireless connections. It also enables you to view photographs and movies at a greater definition and on a much larger screen. A USB connection also allows your phone to function as a storage device.
Android phones are simple to connect to, although USB-to-TV connections may not be possible on all phones. To connect your phone to your television, you can use an HDMI-to-USB cable or an Android TV Box. Just ensure you have the appropriate cable for the job. If you are unsure of the sort of cable you will require, conduct an online search.
Using Miracast technology to link your phone to a television is an alternative method. You may add this capability to your smartphone by purchasing a Miracast adapter and connecting it to a current HDTV. If your phone lacks Miracast functionality, you can enable it by entering the display settings and toggling the switch at the top. Then, locate your television and click Miracast devices. Depending on your Android version and manufacturer, the procedure will differ.
If you have a smart television, you may be able to connect your iPhone to it via a cable. This allows you to stream photographs and media from your iPhone to your television. In certain smart TV models, this feature is included, eliminating the need to purchase a separate cable.