How to Create Dynamic Island On Android Phone – With the release of the iPhone 14, various improvements are included, one of which is a new version of the Dynamic Island function. That's what gives it a cooler appearance. A lot more so on the iPhone 14 Pro and Pro Max models. Recently, there has been a lot of discussion on whether Dynamic Island can be made on an Android phone, not just for iPhone users.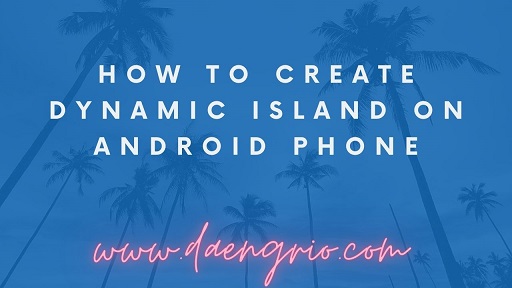 Knowledge About Dynamic Island
It's possible that some people are still unaware of the features included in the iPhone 14 Pro and Pro Max. Dynamic Island is essentially a screen-top feature that can be toggled. The Dynamic Island position is behind the front camera, particularly on the iPhone 14.
Its purpose is to easily change from one feature to another. Here are several key features, like call duration monitoring, AirPod battery life, and sports scoreboards. Users can access maps, music, and notification settings more easily thanks to Dynamic Island.
Using the Dynamic Spot app is one way to make a Dynamic Island on an Android phone. Additionally, its application is not overly difficult. You can take the following actions:
Install the Dynamic Island app on your Android phone after downloading it from the PlayStore.
Choose a few of the programs that will be listed on the notification, such as Dynamic Island.
Set the current "Notification Access" setting. Use the Dynamic Spot app to authorize access to notifications after that. In this case, you must slide the toggle to the "On" position.
When you click on Draw on Screen, the accessibility settings will be displayed. Continue by clicking the 'Off' option next to 'On' > 'Allow' after selecting 'Installed Apps' > 'Dynamic Spot'.
Users can later view data protection information. If the Dynamic Spot app is not online, it makes claims. Thus, the information is not shared.
Clicking "Done" completes the last Dynamic Island activation using Dynamic Spot.
Go to "Popup Settings" in Dynamic Spot to configure a layout similar to Dynamic Island.
After completing the aforementioned steps, try using the application that was previously chosen and see how it appears.
This is the method How to Create Dynamic Island On Android Phone. Go ahead and try it, good luck.