Using the Facebook Ads Library is an excellent way to learn which ads work best, which are worth investing in, and how to improve your own ads. The library contains a large number of active ads that you can use to test new ad designs and messaging.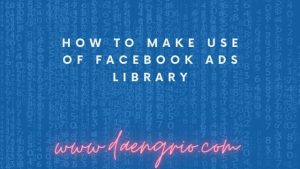 To begin, you can look for ads by name or brand. Once you've found a few that pique your interest, you can click on the ad to get a closer look. Then, copy the link, read the ad copy, and get a sense of how the ad was created. You can then examine the ad for imagery, messaging, offers, and calls to action. Then, you can try to replicate or modify these ad designs to better suit your target audience.
The report feature is another fantastic feature of the Facebook Ads Library. This provides you with a comprehensive view of what your competitors are doing on Facebook. The reports can be filtered by geographic location, spending amount, and other metrics. You can also see if your competitors are employing the same advertising strategy as you. The report function can also be used to hold the platform accountable.
You'll also be able to see ads that are running for a longer period of time than others. Facebook's Ads Library contains a database of the longest-lasting ads. You can also look for ads that are no longer running. This can be a great way to find out when your competitors' advertisements are not running. You can also examine the types of ads that your competitors are using to determine which ad types work best for them.
You can use the Facebook Ads Library to spy on your competitors in addition to learning how to use it. This can be a great way to get ideas for your own ads as well as find businesses that aren't currently using Facebook ads. You can also learn what types of ads your competitors are using and how you can outdo them.
The Facebook Ads Library's best feature is its simplicity. It is accessible to anyone, even if you are not a Facebook user. There is no technical knowledge required. Experts can even give you advice on how to improve your own advertisements. If you're just getting started on Facebook, the Facebook Ads Library will help you improve your marketing strategy.
While there are numerous ways to make the most of the Facebook Ads Library, the most important thing to remember is that it should be used to assist you in creating better ads. You'll get a great look at what others are doing on Facebook, and you'll have the opportunity to create new campaigns that will skyrocket your conversion rates. It's easy to see why so many advertisers and marketers rely on this feature.