This time, we will examine numerous methods on How to Retrieve Deleted WA Chats before they are backed up. Frequently, we erase WA conversations unintentionally, especially if they contain critical information. If so, the last remaining step is to determine how to restore irreversibly deleted WA chats.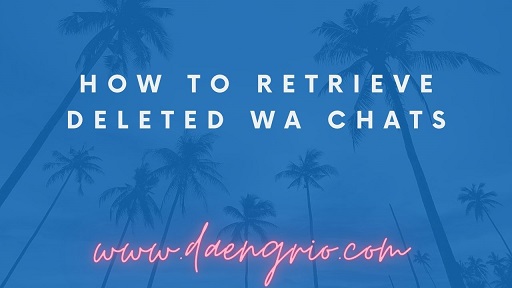 How to Retrieve Deleted Whatsapp Chats
Using file manager apps
How to recover lost WA chats without using a third-party tool, specifically with a file manager.
Launch the file manager app on the mobile device.
Open local storage or SD card
Select WhatsApp
Then where is the Database folder located?
Rename message backup file from msgstore-YYYY-MM-DD.1.db.crypt12 to msgstore.db.crypt12.
Backup earlier messages like crypt9 or crypt10
Never alter the cipher extension number Then remove and reinstall the WhatsApp application.
Select the restore option when prompted.
Employing Google Drive
Next is how to recover permanently lost WA chats without a Google Drive backup. WhatsApp includes a backup function that is integrated with Google Drive. Following are the measures that can be taken:
Activate the mobile phone and connect it to the same Google account device for WA backup.
When prompted, select restore to retrieve chats and material from Google Drive.
After the recovery process has concluded, click the Continue button.
Wait till the initialization procedure is finished.
WhatsApp will continue to restore media and chat files in the future.
Using iTunes
This is a method for restoring deleted WA chats on iOS; for iPhone or iPad users that use WhatsApp to communicate, the procedure is as follows:
Launch the iTunes program on the computer
Ensure automatic WhatsApp data synchronization with iTunes
Select Overview in iTunes
Click the button Restore Backup
Then, choose the backup file or the file to restore.
A sample document is SMS Message
Select restore
iPhone users must wait for the device to finish recovering messages.
Using iCloud
iOS users also have access to iCloud capabilities in addition to iTunes. The procedure is as follows:
Uninstalling WhatsApp
Install, launch, and sign in as normal
When prompted to "Restore" or "Restore" the chat, clicking Next will cause WhatsApp to retrieve backup files from iCloud.
Please wait a moment. After that, all conversations will revert to their state in the backup file.
Utilizing the Back Up Function
How to finally restore deleted WA chats that were not backed up on Android. To facilitate the restoration of lost chats, Sedulur must ensure that every chat has been backed up. The following procedures are required to backup WA chat:
Select WhatsApp > Additional features > Settings > Chat > Chat Backup
Select the Google Account whose chats you'd like to back up. Additionally, brothers can create local backups on the device.
Click "Restore"
After saving the backup, Sedulur can uninstall WhatsApp from the smartphone and install it on the new Android handset.
Therefore, these are several techniques on How to Retrieve Deleted WA Chats using an application or without an application. Hopefully, the processes and approaches listed above will be of assistance.