You may use the iPhone's camera to scan a paper. Simply hold the document up to the camera and make sure it is clearly visible. To verify that the document is properly captured, a yellow border will appear around its edges. Once the document has been taken, you may instantly evaluate the results and choose Keep Scan or Retake Scan.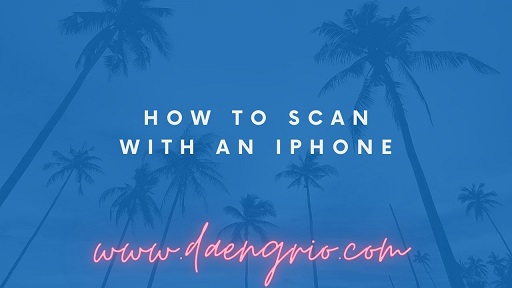 Scanned documents can also be edited. You can trim, rotate, or add a signature to the image if you wish. You can also send scanned papers to others via email or iMessage. You should keep in mind, however, that you cannot alter text in a scanned document.
When taking scans using the iPhone's camera, aim to do so in a well-lit place. If the environment is dimly light, you may need to change the position of your iPhone. Another nice idea is to imagine yourself as a professional photographer. The cameras in the iPhone are fairly good, and you can experiment with different filters and the camera's flash to get the best photo possible.
Fortunately, the iPhone includes scanning functionality. You can also use third-party scanning programs to get even more functions. Many of these apps are free to use and come with a trial period. Scanning on the iPhone is useful for a range of tasks, including recording passport pages and permission papers.
Documents that can be scanned can be stored to the iPhone's Notes app. When you scan an image, it appears in the Notes app, where you may modify it or save it as a PDF. When you're finished, tap on the image and then "Done" to save it. This procedure is simple and quick. It's also the most effective method for capturing vital documents. With the iPhone, you can scan photographs and PDFs.
The Camera app is another useful way to scan on the iPhone. You can scan any paper documents or receipts using iOS 13 and the camera. Just make sure the manuscript is on a flat surface. To increase the odds of a high-quality scan, make sure the color of the paper contrasts with the background. To scan a document, open your iPhone's Camera app and click Scan Documents.
Scanning on the iPhone is simple and convenient, and it does not require the use of a scanner. If you don't have a scanner, you can scan documents using a free program. Adobe Scan is one tool that allows you to scan any form of paper. You can also edit the document after scanning it with this program.
Another significant benefit of scanning PDFs on the iPhone is the ability to save and share them with anyone in seconds. You'll never have to worry about losing or misplacing a physical document this way. Scanned PDFs have the added benefit of allowing you to add comments and highlight relevant areas of the document to make it more helpful to others.