Freshbooks is an effective way to track your time, expenses, and income as a freelancer or contractor. To save time, you can easily set up automatic recurring invoices, as well as payment reminders and late payment fees. Freshbooks makes it simple to track your expenses while also keeping track of billable hours and projects in progress. FreshBooks can help you prepare taxes quickly and easily if you're looking for a simple way to do so.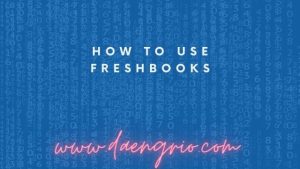 FreshBooks is a cloud-based accounting software that automatically tracks your time and expenses. The software is simple to use and has a pleasant UI/UX. It also provides a number of useful reports, such as Daily Breakdowns and time tracking reports. Furthermore, FreshBooks centralizes all communication records. You can also work with other users on projects, and your clients can respond to feedback and proposals online.
FreshBooks lets you create invoices that can be mailed or emailed. To customize the look of the invoice, you can select from several templates. You can also include a logo and specify a deadline, payment terms, and late fee. You can also add notes and set reminders to your invoices. Deposits for new projects can also be requested.
FreshBooks for mobile devices is also available. It's available for iPhone and Android users, and it lets you create invoices and receipts while on the go. You can also track your business trip mileage and set up automatic tax deductions for expenses.
You can also set up email notifications for invoices, payments, and estimates in FreshBooks. If you have a client who makes frequent payments, you can set up email notifications to stay in touch with them. Similarly, if you're sending a proposal, you can set up email notifications to ensure that you don't forget to send them. You can also charge late fees and send automatic payment reminders to your customers.
FreshBooks accepts credit cards as well as bank transfers as payment methods. FreshBooks allows you to accept online payments in a few simple steps. If you require assistance, you can also invite an accountant to your account. An accountant can assist you in balancing your books, entering transactions, and preparing taxes.
FreshBooks is free for 30 days, but paid plans start at $16 per month and go up from there. FreshBooks' Lite plan allows you to create invoices for up to five clients. This plan is currently on sale for 60% off for six months. If you require a more powerful solution, the Professional plan is available. This plan is intended for small businesses and independent contractors.
FreshBooks also has a free mobile app that allows you to track mileage and create invoices while on the go. The app can be accessed via any web browser on your phone or tablet. It's also available in other languages, including Danish and Estonian.