Xoom is a money transfer service that offers its customers quick and secure money transfers. Xoom is available in 64 countries worldwide. Xoom is also intended to save you time and trouble when sending money. In fact, the service enables you to send money to family and friends without having to wait in long lines or carry cash.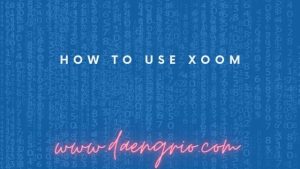 To use Xoom, you must first sign up and provide your personal information. A photo ID and proof of income are required. You must also include the recipient's address, phone number, and name. You must also provide a bank statement if you are sending money to a bank account. You can begin sending money once your account has been verified. However, the amount of money you can send through Xoom is limited. Within a 24-hour period, you can send up to $2,999. In one month, you can send a total of $10,000. Transfer fees are included.
PayPal Inc. operates Xoom, a money transfer service. You can use your PayPal account or a credit card to send money to people all over the world. The fees vary depending on the payment method you select. Xoom also has a fee calculator online that shows you how much you will be charged. Xoom can also be used to transfer funds to a bank account. This method, however, is not as quick as sending money directly to a bank account. Xoom can usually transfer money within two to three business days. Transfers may be delayed during holidays and weekends.
If you have any problems with your money transfer, Xoom offers a money-back guarantee. There is also a referral program. When a friend or family member uses your referral link to sign up and make a $50 transfer, you will receive a $20 bonus. You can earn more bonuses for referrals who make a $50 or more transfer. Xoom also provides text and email notifications. Xoom can also be used to reload prepaid phones. You can also be notified when family members require financial assistance.
If you want to use Xoom to send money, you must first decide where you want your money to go. You have the option of sending money to your recipient's bank account or to their home. Xoom has partnerships with major retailers to deliver money to the home of your recipient. Most countries have cash pickup locations where you can pick up your money. You can also receive cash in your recipient's bank account, though this may take several days.
The speed of your Xoom money transfer will be determined by the payment method you select and the country of your recipient. In most countries, you can pick up your money from a bank branch. However, if you fund the transfer with your bank account, you will be charged a cash advance fee, which may result in higher interest rates. Furthermore, you can only transfer a total of $10,000 per transaction. When transferring a large sum of money, you may be charged additional fees.