KRK Rokit 6 G3 Two-Way Active Studio Monitor is one of KRK's most well-liked products, which has been regularly upgraded from generation to generation, is the Rokit line of monitor speakers. The Rokit 6 G3 is a third-generation two-way studio active speaker monitor with an 8-inch woofer, which is in the midway of the 5-inch and 5-inch options. With a warm appearance, detailed sound quality that is not tiring to hear, a good amount of clean level, and a four-position EQ adjustment for very beautiful bass and treble, this model has a variety of benefits.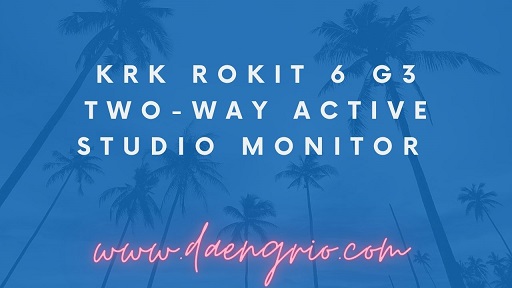 Build Design and Performance
Even though the Rokit 6 G3 monitor speakers are intended for professionals, their cost is not excessive when compared to other monitor speakers of a similar caliber. Each Rokit 6 G3 weighs about 8.4Kg and has dimensions of 11.49 by 8.9 by 13.1 inches. The wood fiber used is quite hard, and the dark black vinyl covering and tapering front corner make it appear more appealing. KRK's distinctive color for the bottom driver cone is yellow, and a soft-dome tweeter is located directly above it. When the monitor speakers are turned on, the KRK logo on the front panel illuminates in white and yellow.
Standard AC cable inputs, an on/off switch, balanced TRS and XLR inputs, and unbalanced RCA inputs are all located on the back panel. Additionally, there are three knobs with a faint yellow line, one of which controls the volume and the other two that modify the frequency to assist you balance walls, corners, and freestanding positions in different configurations or rooms that may be lighter or darker than typical. The four rotational positions for the high frequency level are -2dB, -1dB, flat, and +1dB, whereas the four rotational positions for the low frequency level are -2dB, -1dB, flat, and +2dB.
A 48-watt amplifier powers each 6-inch drive with aramid glass composite woofer, and a 25-watt amplifier powers the 1-inch soft dome tweeter. The monitor speaker, according to KRK, can respond to frequencies between 38Hz and 35kHz and boasts a maximum sound output of 107dB, strong enough to amaze clients during a monitoring session.
The KRK Rokit 6 G3 strikes a superb mix between overall performance, woofer size, and a reasonable pricing. The Rokit 6 G3 is one of the greatest options if you want to give your tiny studio some fantastic speaker monitors.