Leef iBridge External Storage for iOS Devices – The Leef iBridge an external mobile storage media accessory that is compatible with a variety of iOS devices. The iBridge is a stick-shaped gadget featuring a Lightning connector and a USB 2.0 port that allows you to transfer photographs, movies, music, and documents from iOS devices to external memory. Leef iBridge is available in a variety of capacities, including 16GB, 32GB, 64GB, 128GB, and 256GB.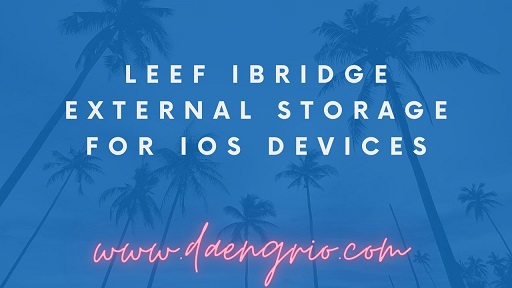 Files can be copied or transferred using the Leef iBridge application, which is free and accessible immediately from accessories; music and videos can also be played directly on iBridge. Files can, of course, be transferred on a Mac or PC using the USB adapter. The iBridge comes with a cover that may be used to protect both connectors while not in use or to conceal the USB connector when the Lightning connector is inserted into an iOS device.
The iBRIDGE is about the size of a standard flash drive, measuring 2.48″. When in use, the curved form allows the larger portion of the memory stick to be hidden behind the iOS device. The iBridge's flexibility allows it to be stored behind any device that uses any case, even if the cover on the Lightning port is extremely large. This allows you to continue using your iPhone while it is linked to iBridge.
Apps are a key part of the experience with external storage solutions for iOS, and the simple Leef iBridge app fulfills its job well, opening and transferring files swiftly and easily. After connecting the iBridge, you will be prompted to grant access to the accessories. The application will then launch with a simple menu that provides the user with four options: file transfer, Content Viewer, iBridge Camera, and Settings.
File Transfer, like the Apple Photo app iOS 8, allows you to copy or move photos from or to iBridge. The photo and video transfer process is quick and easy, and you can create new folders using the file manager. Content Viewer displays every content on iBridge, whether music or videos, and even allows you to play them directly when iBridge is linked to your iPhone after transferring files from a Mac. Visit the Leef iBridge website to learn more about the files that the application can handle.
You may also use iBridge Camera to snap images directly from the Leef iBridge app. This capability comes in handy when you need to capture images but your device's internal storage capacity is insufficient. Furthermore, moving photographs with iBridge on a Mac via a USB cable can be as smooth as using an external disk.
The iBridge software simplifies things for the advantage of the users, and everything works well. Furthermore, iBridge shines when it comes to photographs, where consumers frequently require additional storage capacity. Leef iBridge is a simple solution for individuals who wish to increase the storage capacity of their iPhone or iPad without having to purchase to a higher capacity model.