Meta appears to be taking no chances in reaching its goal of creating a metaverse, even if it means incurring massive losses for the corporation. This is according to the most recent income report.Reality Labs, Meta's virtual reality projects section, lost USD 3.7 billion in the third quarter (Q3) of 2022, up from USD 2.6 billion the previous year and USD 2.8 billion the previous quarter.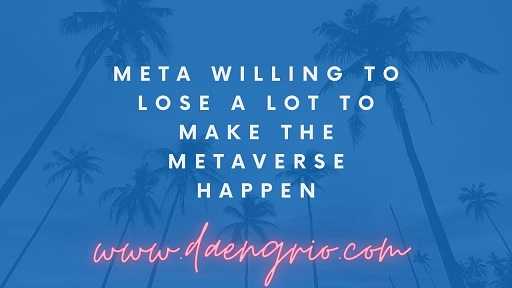 According to Meta's head of finance, this tendency may be difficult to reverse in the near future.
"We expect Reality Labs' operational losses to increase dramatically year over year in 2023," stated CFO Dave Whener.
The company's investment in Reality Labs is quite costly. They reported a $10 billion loss on Reality in 2021 earlier this year.
CEO Mark Zuckerberg, on the other hand, stated that investment in "advanced computer platforms" would continue to be a primary focus.
"This is a massive operation that frequently necessitates numerous versions of each product before it gets mainstream," the Facebook creator explained.
"However, I believe our work here will be historically significant, laying the groundwork for a completely new way in which we will engage with one another and incorporate technology into our lives," added the Meta CEO.