The Pokemon Scarlet and Violet Cheugy question is, to say the least, unexpected. I never thought I'd be writing this, but if you're playing Pokemon Scarlet and Violet, you might be wondering what cheugy means. It does feel a little "how are you, fellow kids?" but there is a reason for that. If you return to the Naranja/Uva Academy and speak with Director Clavell at any point, he will ask you what cheugy means. If you answer correctly, your friendship with him will grow, though what that means in the long run is unclear.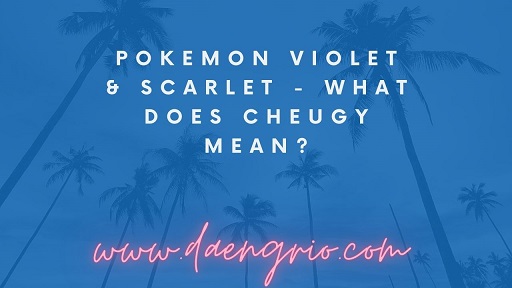 When you ask Clavell what cheugy means, he'll give you three options:
Something super cool
Being outdated and uncool
It's a really chewy gumball
Basically, it means "outdated and uncool," and it's mostly used by younger generations when referring to older generations – or by anyone who needs to Google the word cheugy. It is used to describe anything or anyone who is out of step with the times or tries a little too hard.
The term cheugy originated on TikTok and was used to describe a variety of things associated with millennial women. It's not meant to be used negatively, but like many things on the internet, it's taken on a negative connotation.
It was invented by a woman in Los Angeles in 2021, though she claims she coined it in 2013 while attending Beverly Hills High School.
But, in any case, Director Clavell is cheugy for asking what cheugy means. Poor guy. Nobody wants to play Pokemon Scarlet and Violet coop with him because he's dating himself out of the cool kids club.