Tips Before Purchasing a UPS – Blackouts are still frequent and difficult to predict, especially if there is no previous warning or if something could cause them. In some instances, a power surge can cause harm to electrical devices and data loss owing to computer damage.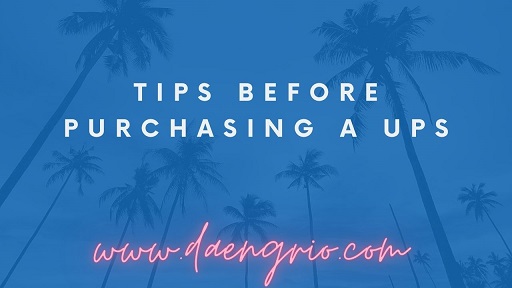 The solution is to use a UPS or uninterruptible power supply in the form of a large enough unit, which is a combination of a high-quality protector and a battery that can keep electronic equipment running for a short period of time during a power outage. Here are some tips you should consider before purchasing a UPS:
Count The Outlets
There are just a few electrical outlets on a UPS, therefore you must determine how many of your devices are absolutely essential to be protected by a UPS. Numerous UPSs offer up to eight outlets, however it is important to verify how many ports the battery actually supports. Typically, only four or six outlets can be powered by the batteries of a UPS. Some may already be aware of this, but don't be surprised if you learn it the first time the power goes out.
Power Essential
After the outlet, the quantity of power required by the devices connected to the UPS is the next consideration. Even if the battery is completely charged, the gadget will turn off if it requires more power than the UPS can provide. Using a watt-meter, you can determine how much electricity your computer or other device requires. Examine everything the UPS must power. For a desktop computer, you must add the wattage requirements for the computer and the monitor.
Battery Power Last
Consider how long the device should remain powered following a power outage. Some purchase a UPS in order to have a few minutes to save each job and properly shut down the equipment. There is also a UPS that will allow you to continue working during an hour-long power outage.
To determine how long the UPS can power the connected devices, sum up the required wattage, and then consult the product's runtime reference/load graph. This information is often located on the side of the packaging or in the product's description if purchased online.
Required Attributes
Some may believe that an uninterruptible power supply (UPS) simply offers simple features, such as plugging in the device and replacing it with a battery when the power goes out. However, even for consumer UPS, it offers capabilities like as battery removal notification, USB connectivity, and software to control UPS status from a PC. While UPS professional offers more features, such as an LED indicator for remaining battery power and duration in minutes to hot-swap batteries, UPS standard gives fewer options. There's no shame in purchasing a UPS with fewer features if you deem them to be sufficient if you're required to pay extra for the luxuries.
Product Assurance
Each manufacturer offers varying warranty terms; typically, they provide both a product guarantee in the form of faults in the UPS product itself and a warranty on the connected equipment, i.e., they will replace the value of any equipment damaged by UPS failure. Before purchasing, you should thoroughly review the warranty details on the manufacturer's website. For instance, APC offers data recovery as part of the warranty on certain of its UPS units, although its most formidable competitors do not.
These are the Tips Before Purchasing a UPS, don't just think about the price but also think about the usage in long term.