Video Call Up To 12 People With Google Duo – Currently, technology has helped us a lot in our activities, and it has been very useful during the Covid-19 pandemic. One of them is to help us move from home by using video calls for face-to-face communication.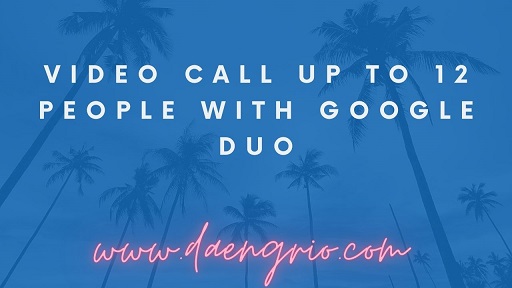 After the viral news about data leaks through the Zoom app, we have to start thinking about other alternative apps to make video calls. One application that you can use for free is Google Duo. Google Duo app is one of the best video calling apps because Calls are end-to-end encrypted, and there are lots of features in it like Google Duo group video calling function.
By using this application you can make group video calls with up to 12 people without the need to download other applications. In addition, this application is available directly for Android users and for iOS users, so you only need to download it first in the App Store.
How to Video Call Up to 12 People With Google Duo
Open the Google Duo app and allow it to access your microphone, camera, and contacts.
After that, swipe up in the center of the screen to access all the contacts on your smartphone.
Then tap the Create group button at the bottom of the contact search dialog box.
Next step select up to 11 contacts to add in the group and tap Done when you are done.
Then give the group a name. Later everyone in the group will see this, so make it easy to identify.
Next call up the group by tapping the Start button at the bottom.
Next after you make a call, everyone will be notified, but not everyone needs to answer so you will only be connected to friends who answer your call.
Once you create a Google Duo group, it will be available in your contact list so you can quickly call everyone or send them a video message in the future, pretty much the same as groups on WhatsApp.
That is how you Video Call Up To 12 People With Google Duo, this Google Duo application is indeed helpful for meetings in large numbers.