Data and information for Web Scraping Function For Business Development are not only more available, but also easier to get in the digital age. Today, we may use the expanding amount of data and information for a variety of objectives. One of them is for the sake of business development.
Internet research is an inseparable element of the activity of online entrepreneurs. For example, online research is required to determine market trends, track product prices, and learn about competitors' marketing activities. Manual copying and waste patterning are still possible. It will, however, take up more of our time. In truth, there are numerous additional critical tasks that must be completed.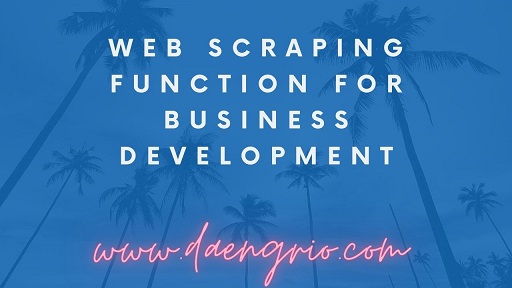 Web scraping, also known as web harvesting, is the process of getting or extracting data and information from a website, and then storing the retrieved data and information in an organized fashion in a spreadsheet or database so that it can be used elsewhere.
For web scraping, we can utilize the scraper web browser extension. Because it is often integrated with the browser we use, this browser plugin is simple to use. However, there are limitations because complex functions that are beyond the reach of browsers are often not accessible via web scraper extensions.
As a result, we may require web scraper software. This software is available for download and installation on a computer. Web scraper software is far more complex than web scraper extensions, but it offers advanced features that are not restricted by the scope of the browser we use.
Cloud web scrapers, which are off-site servers usually offered by web scraper firms, are also accessible at the moment. So, what are the advantages of web scraping, particularly in the context of company management?
First, determine the cost. Web scraping can be used by businesses to monitor market product pricing, particularly the cost of competitors' products. As a result, businesses can utilize the information gathered to determine the best price for their items in order to maximize income.
Second, learn about customer trends. Web scraping data and information can be quite useful for businesses in terms of studying consumer patterns and determining which way the firm should focus on moving in the future.
Third, keep up with the news. Important company news is monitored. Business executives must be aware of what the media is saying about their organization. A piece of news can either help or hurt a company's reputation. Web scraping facilitates firm managers' monitoring of news concerning their organization and subsequent evaluation stages.
Fourth, consider sentiment. Sentiment analysis is required if businesses wish to understand the general sentiment of their products among their customers. Companies can utilize web scraping to acquire data on general sentiment about their products from social media platforms such as Facebook and Twitter. And this will enable businesses to create the items that people demand while being one step ahead of their competitors.
Fifth, start an email marketing campaign. Web scraping can be used to collect e-mail IDs from different websites, which can subsequently be utilized to create appropriate promotional and marketing campaign models via e-mail.