Pixelmator is a Mac and Windows image editing and design application. It can be used to enhance photos, create infographics, and even turn photos into posters. The software is simple to use and includes a variety of features and tools. It's perfect for photographers, graphic designers, and digital artists.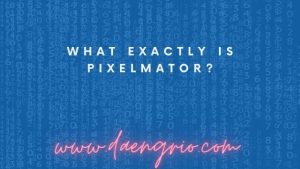 Pixelmator is not as powerful as Adobe Photoshop or Illustrator, but it is an excellent tool for any creative. Its ability to automatically improve photos is an excellent feature. It also has a lot of useful features like the ability to remove unwanted objects, masking, and layers. It also includes a collection of design tools for adding brush strokes to photos. The app can also be used to create simple vectorized images.
The new Pixelmator Pro version 2.4 "Odesa" includes numerous new features. It includes a new "effects browser" that allows you to apply effects to a layered composition as a whole. New layer types and color adjustments are also included. The addition of new vector shapes is another feature. Furthermore, the application improves support for the Apple M1 Ultra chip.
Pixelmator Pro has an impressive feature set. It has smart selection options, an advanced alignment tool, and a number of pre-made Smart Shapes, for example. It also includes a collection of useful icons, extensions, and neural network support. Furthermore, the application can be used as a standalone program or as an external editor for other programs.
Pixelmator Pro is simple to use. To get started, you don't even need any prior experience with the software. The application's user-friendly interface allows users to adjust, edit, and retouch their photos without the need for professional assistance. The application also includes a variety of file formats, including PSD and RAW files. It also supports the HEIF format, making it simple to edit and export your photos to other formats.
In addition to its useful features, the software includes a video library. The program includes several useful extensions, such as the ability to work with iCloud. It is also simple to install and use. It has a small learning curve, as do many new applications. It's also one of the quickest photo editing programs on the market. The software also includes a useful toolbar with a variety of editing tools and selection options. You can also rearrange the toolbar to better suit your needs.
The toolbar also includes a retouching tool for removing background objects and other unwanted elements from your images. It also has an automatic subject selection function. You can also use the "ML" button, which is a euphemism for a magic wand that makes minor changes to your photos.
Pixelmator is an excellent choice for both novice and experienced users. It can remove complex backgrounds and automatically improve your images. While it lacks some of the features of Adobe Photoshop and Illustrator, it is simple to use and a great value.