Whether you're just getting started with your YouTube channel or have been uploading videos for years, YouTube Studio has the tools you need to manage it. This platform allows you to upload videos, edit them, manage your playlists, and interact with your viewers. It also allows you to manage the feedback you receive. You must authenticate your account before you can use YouTube Studio. After that, you can invite other users to your channel by clicking the "+" sign in the upper right corner. You will be able to access the YouTube Studio dashboard once you have logged in.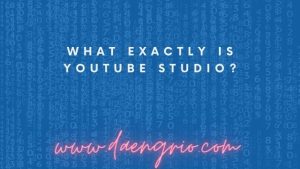 This is where you'll find important video statistics like viewer age, gender, and traffic source. This can assist you in analyzing your content and determining which videos are performing well and which are not. Analytics in YouTube Studio can also help you understand your audience and create better content. It can also provide you with the data you require to make better captioning decisions for your videos.
YouTube Studio provides analytics and insights into how your audience discovers and interacts with your content. You can see information such as average view duration, performance of your videos, number of subscribers to your channel, and much more. These analytics are critical for determining what type of content your audience prefers. You can use this information to make more compelling videos that will appeal to your target audience. You can also use this data to analyze the content of other channels and get ideas for how to improve your own videos.
You can also use YouTube Studio to make changes to your channel. This includes customizing the titles, thumbnails, and end screens of your videos, as well as changing the look and feel of your channel. You can also change the language of your video descriptions and add captions and subtitles.
YouTube Studio is still in development, but it already includes a number of useful tools. The dashboard provides quick access to many of the tools in YouTube Studio and is an excellent way to monitor the performance of your channel. You can also learn more about your channel by visiting the "Research" tab.
You can also use YouTube Studio to edit and add subtitles to your videos. There are several ways to add subtitles in the video editor, and you can choose to have YouTube add the subtitles automatically. Captions can also be added to your video, and faces can be blurred out. You can also add ad breaks to your videos, which can be set to start and stop automatically. You can also include cards in your videos that link to your channel or playlist.
Your videos can also have chapter markers. These markers are easy to use. They can be placed anywhere in your video description and will recognize the first chapter automatically. This means you won't have to spend hours formatting your video, and they can assist you in getting your content noticed. You can also include time codes in your video description for seconds or minutes. These time codes can be used to access a specific section of the video by clicking on them.