DocuSign is a straightforward and secure way to manage all of your agreement requirements. DocuSign provides a complete audit trail of all your document signings in addition to a selection of configurable forms. DocuSign is a paperless solution, which means you won't have to print, sign, scan, or send individual pieces of paper. You can also keep all of your documents in one safe place.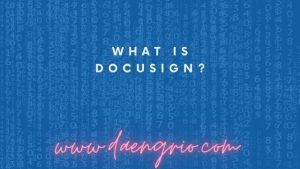 By minimizing the need of paper forms, DocuSign's eSignature technology saves businesses and consumers money and time. Authentication is also an option, which means you may verify the identity of the individual signing your document. Phone, email, and ID verification are all included.
DocuSign is a free service that allows you to electronically save and send documents. This allows you to save time and standardize your operations by eliminating the need to print or mail paper forms. You may deliver nearly any document to your recipient in seconds with DocuSign's online signing services. Custom fields for signers can also be saved, and reusable templates can be created and used.
DocuSign supports text, numeric, and currency fields in its forms. Custom fields and standard tags can also be added to your documents. Names, titles, and signatures can all be included in these tags. If you want to edit these tags for specific purposes, you can save them as custom tags.
DocuSign also has a powerful connection function that allows you to connect to other systems. Salesforce CRM, for example, allows you to deliver a lease to your real estate clients. DocuSign will securely store your papers and allow you to access them from anywhere. As the real estate business has been more digitalized in recent years, this is very beneficial to them.
DocuSign provides both a free trial period and a normal monthly subscription charge. If you require further support, you can purchase it. Some plans feature round-the-clock assistance. If you simply use DocuSign for infrequent document signing, you can join up for a $15-per-month plan. This plan allows you to send five envelopes every month, which is enough to cover DocuSign's monthly fee.
DocuSign is utilized in a variety of businesses. Companies who utilize DocuSign to initiate contracts, such as realtors, can save time by eliminating paper forms, for example. They can help cut costs related with document sending and courier services.
DocuSign's unified workflow technology has also been shown to boost productivity. You can transmit papers, manage users, and track signings all from one location. It also assists you in improving document security by giving critical security protocols.
DocuSign also offers a number of other services, such as document generation, contract lifecycle management, and e-signature. All of these services are supplied by Agreement Cloud. Agreement Cloud is a secure system that integrates with a variety of technologies to keep your documents safe and secure.
DocuSign solutions are available to both corporations and individuals, and plans include enterprise-level support. For example, the Business Pro package gives admin-level access to user management.