Whether you want your groceries delivered or you simply need a few products for your family, Blinkit is a quick and easy way to shop. This app connects you to food stores in your area and allows you to shop for all of your daily necessities. You can also use the app to track your shopping orders and communicate with customer service representatives.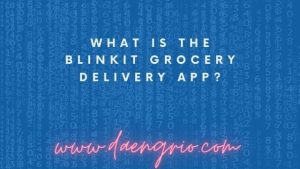 Blinkit partners with local stores and warehouses to select and deliver your goods. Blinkit, unlike other supermarket delivery services, does not need its retailers to own their own vehicles. Rather, it collaborates with local mom-and-pop stores to display their wares and provides last-mile delivery services to these enterprises.
In addition to providing last-mile transportation services, Blinkit collaborates with local businesses and warehouses, paying them a percentage of sales generated. Depending on the order, commissions range from 8% to 15% of the total transaction price. Blinkit earns money in addition to commissions through advertising and relationships with payment partners and e-Wallet providers.
Blinkit collaborates with huge stores in addition to small enterprises. These merchants are in charge of inbound procedures such as product selecting and storage, as well as outward activities such as billing. Blinkit collaborates with small businesses by providing them with ad space on the Blinkit website or app and by featuring their products on the Blinkit website.
Blinkit's business plan is built on a commission-based income model, which is similar to other Internet delivery firms' commission-based income models. Blinkit works directly and indirectly with a network of 20,000 employees. Its network includes 300 "dark" retailers, the majority of which are located within two kilometers of the targeted locations. Meanwhile, Blinkit intends to increase its network of partner stores to 1,000 by June 2022.
Blinkit provides a wide range of products to its consumers, including fresh fruits and vegetables, groceries, infant care products, gadgets, and more. It also collaborates with local businesses, warehouses, and payment service providers.
The business model of the organization is determined by three factors: revenue, costs, and competition. Over time, the company hopes to produce more orders, a larger customer base, and a greater average order value. It also intends to expand its service beyond groceries to include home goods, restaurant delivery, and retail.
Blinkit charges merchants a portion of sales, but it also charges for delivery and logistics support. It also collaborates with local mom-and-pop shops and warehouses to provide last-mile delivery services. Blinkit generates revenue through advertising, partnerships, and collaborations with e-Wallet providers and banks.
Blinkit currently has over a million members and operates in fifteen locations across India. The company was valued at $1 billion in January 2022. It also has the support of Zomato and Tiger Global.