You may use Zoho CRM to automate operational chores and streamline lead production. You can also tailor your Zoho CRM to your specific needs. You can customize modules, add data fields, change layouts, and change permissions. CRM reports can be exported in CSV or Excel formats. Zoho can also be integrated with third-party software and services.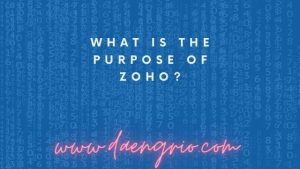 When you connect to your network, the Zoho mobile app automatically syncs data. It has collaboration tools as well as sophisticated contact management functions. You may use it to reach out to leads and track critical metrics at any time and from any location. The Zoho mobile app is fully compatible with the Android and iOS operating systems. The Zoho mobile app provides several business-critical metrics, including contact volume, lead volume, and deal volume.
The Zoho dashboard is simple to use and personalized. You can switch between a standard homepage and a customised look. You may also design your own buttons and page layouts. Zoho has substantial online documentation, including thorough how-to manuals. Live webinars and training sessions are also available. You can also change the order of your open tasks in your Zoho dashboard. To keep your team on track, Zoho also provides pop-up notifications. There are also hundreds of integrations to choose from.
Zoho's customer assistance is accessible on four different tiers, with response times of up to one hour. Zoho's customer care plans are available in over 28 languages, and multiple worldwide currencies are also supported. In addition, the organization provides premium courses, training videos, and e-books.
Zoho CRM is used by over 150,000 organizations in 180 countries worldwide. The software from the company is available in three subscription plans. Zoho is free for one user, and you can pay a monthly charge to gain access to the whole Zoho suite. The Standard package is the most basic and gives access to a library of 100,000 records and reports. It also provides toll-free customer service. The Zoho Premium subscription, which includes product onboarding, configuration support, and quarterly reporting, is also available. Zoho also has a developer sandbox where you can test and create applications before integrating them with Zoho.
Zoho CRM comes with over 40 native apps and over a hundred linked business solutions. Zoho can also be integrated with Salesforce, Google productivity products, and other third-party software and services. Telephony integration is also supported by Zoho CRM. It can log calls with notes automatically. You can also utilize Zoho CRM's PhoneBridge tool to integrate your phone system. Data migration from other CRM systems is also supported by Zoho.
Zoho's mobile app is a quick, user-friendly, and streamlined software that allows you to reach out to prospects from any location. It is compatible with the Android and iOS operating systems and syncs data instantaneously when connected to a network. The Zoho mobile app has conversational AI and increased reporting capabilities. With Zoho's business card scanner, you may import contacts from your mobile phone. Custom templates can also be created for email campaigns, mail merges, invoices, and quotes.